Details
General
Brand
Sony
Model
USM8GR/B
Capacity
8 GB
Type
Utility
Colour
Black
Form Factor
USB flash drive
Interface
USB 2.0
OS Supported
Windows 7, Windows Vista, Windows XP (SP3 or later), Mac OS X 10.1 - 10.7
Dimensions
W x D x H
19.8 x 8.5 x 55 mm
Weight
9 grams
Warranty
Warranty Period
1 Year Manufacturer Warranty
Warranty
Period
1 Year Sony Warranty
Pen drives are a must-have when it comes to storing and transferring data. Thus, if you are on the lookout for one either for your personal use or to gift it to someone, you must check out the Sony Micro Vault pen drive. The pen drive has a sleek design and sturdy in terms of built and comes with a storage capacity of 8 GB. Moreover, you would also get a 1-year warranty on its purchase.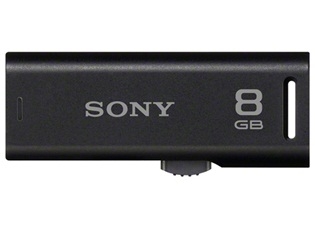 Features
The Sony Micro Vault Classic pen drive can be easily connected to a computer. Being a plug and play device, it does not require an installation device. It supports Windows 7, Windows XP (SP3 and higher versions), Windows Vista and Mac OS X 10.4-10.5. It comes with a USB interface of version 1.1 and 2.0. Its storage temperature ranges 10-60°C while its operating temperature ranges 0-35°C.
Compact and Portable Design
The Sony Micro Vault Classic pen drive is compact in size as it measures 1.9 x .8 x 5.5 cm. It will fit in a small pocket of your backpack or laptop bag with ease.
Storage Capacity
The Sony Micro Vault Classic pen drive will let you store and transfer up to 1600 Mp3 songs. One factor that will affect the number of songs is the bit rate at which the songs were originally recorded. Some songs are recorded at 128 Kbps while others are recorded at 256 Kbps. If you want to store more songs, make sure you download them at 128 Kbps. If you wish to store audio formats like WAV or FLV that occupies much more space in comparison to the Mp3 format, the number will be lower than 1600. You can store up to 30 hours of video feeds that are recorded at 384 Kbps, thanks to its 8 GB capacity. However, when it comes to high-definition videos, keep in mind that they take up a bit rate of about 8000 Kbps along with stereophonic audio at the rate of 284 Kbps. You can store about 2 hours of high-quality video on this pen drive.
Read and Write Speed
This pen drive reads and transfers data at a high speed, which helps you to transfer movies and software in no time at all.
The images represent actual product though color of the image and product may slightly differ.
Additional Information
| | |
| --- | --- |
| Capacity | N/A |
| Size (In Inches) | N/A |
| Tax Class | Shipping |
Education on how to get products in the site.
Custom Tab Content 2
Custom Variants and Options let you create product customization options and fields quickly and easily. Any product can have custom variants and options – this can be configured in its product configuration. Custom variants and options can be created for products as required or non-required options. They can affect the total price of the product by a fixed amount or percentage.
In other words, custom variants and options allow you to make products that are unique and individualized. Whether it's a gift with a special message, a sweatshirt with custom embroidered text, or anything in between – possibilities are limitless.